BOARD CERTIFIED CONSTRUCTION LAW ATTORNEYS
Stearns Roberts & Guttentag is one of South Florida's most recognized, award-winning, board certified law firms that exclusively practices construction law, specializing in construction dispute avoidance and resolution.
WELCOME TO Stearns, Roberts & Guttentag LLC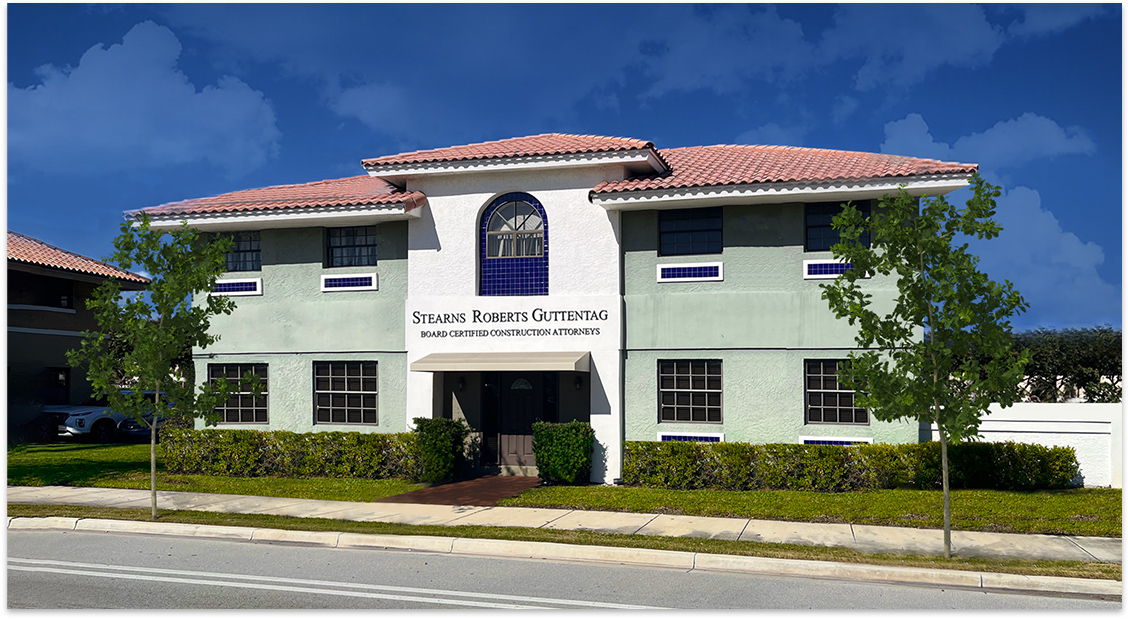 We represent contractors, subcontractors, material suppliers, property owners, condominium associations, sureties and design professionals throughout the State of Florida.
Our senior attorneys are all certified by the Florida bar in construction law and earned a reputation throughout the construction industry and legal community as skillful counselors, litigators, and negotiators on behalf of plaintiffs and defendants in the construction setting.
Contact us to get more information or schedule a visit to our office. Our knowledgeable, board certified construction attorneys can help you with;
We are a full service, general practice law firm, but we specialize in the areas of residential and commercial real estate transactions and litigation and commercial transactions and litigation. Our attorneys with building contractors license have a better understanding of all the technical details. 
Absent Ambiguity, Plain Meaning of Contract Language Controls By: Michael E. Stearns, Esq., Stearns, Roberts & Guttentag, LLC The best contracts clearly and unambiguously spell
By: Michael E. Stearns, Esq., Stearns, Roberts & Guttentag, LLC Arbitration is an alternative to litigation in the court system. There are two sides to
By: Michael E. Stearns, Esq., Stearns, Roberts & Guttentag, LLC Most subcontractors have had the unfortunate experience of being on the wrong side of a